Sand Blasting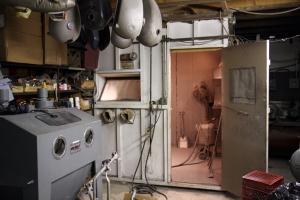 Our 8x8x8 blasting booth uses a fine steel grit instead of sand, and our powerful air compressors are top-notch. Our media is the equivalent of 80-grit sandpaper.
We're able to accommodate just about anything up to and including parts as large as an auto K-frame.
In addition to your parts, we're happy to handle your other sandblasting needs, including items such as patio furniture, radiators, and so forth.
This service is available at a cost of $70 per hour. And we know what we're doing, so we do it pretty quickly.