Restoration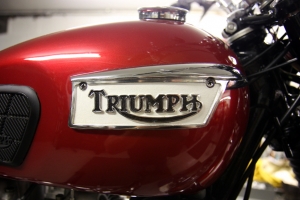 Some people fix up an old bike, get it running, and call it a restoration. We call that fixing up an old bike and getting it running.
We think of restorations as rebuilding a vintage Triumph from the ground up, restoring each and every part to exactly as new, matching original colors, specs, and condition, and creating a machine that has seemingly traveled through time from England to our showroom.
We don't like those restored bikes to be too perfect. Instead, we like them to seem factory fresh. And because we've been doing this so long, we know exactly how every last nut and bolt is supposed to look – sometimes in direct opposition to what you might see in an old catalog or parts book.
We have a secret stash of old bike cores. If you wanted a sparkling new '69 Bonneville…we can build you one. Or, if you already have a pile of parts in your basement and are looking to restore the bike yourself, we are here to help you, guide you and supply you with everything you need.