Paint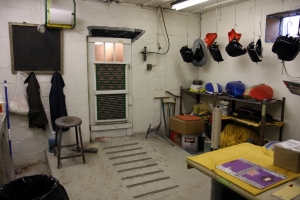 Quite simply, our paint expertise is the foundation of everything we do.
We maintain a collection of over 100 vintage Triumph tanks. Over the years, we've cleaned certain areas of each tank, examined the area under the badges, and compared the color variations to historical photographs to determine the exact original colors.
From there, we've created a database of colors for every model and year since 1946. We've created the exact recipe for every color, and know exactly how these paints were originally applied in layers.
We know exactly how the stripes and scallops resolve themselves on the underside of each tank – something you can't determine by looking at photos, or even bikes in person.
In other words, if you are looking to have your vintage Triumph exactly match the original paint color, look no further. Paint color mixed by Don Hutchinson Cycle is the finest available. We're happy to sell you the proper paint and can ship directly to your local shop.
Please be aware that due to regulations, we're unable to ship paint overseas at this time. Nor are we able to accept paint for return. Also, please forgive us for not being able to share our color formulas with you, as those special formulas are our bread and butter.
Call us at (781) 245-9663 or drop by the shop for an expert consultation, to tour our facility, and to see examples of our work.