Chrome Plating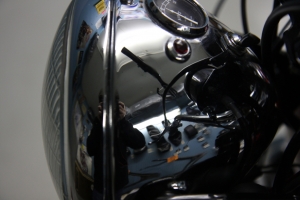 Quite frankly, chrome plating has become prohibitively expensive in recent years due in part to increasingly strict EPA regulations.
In many cases, it's simply cheaper to purchase new parts. For instance, quality chrome headlamp cases can be had for $50-$100, whereas it could cost more to re-chrome your old case.
That said, we're happy to provide this service for your OEM or custom parts, and can usually complete the work in about 2 weeks. Please call our shop at (781) 245-9663, and we'll be happy to provide an estimate.