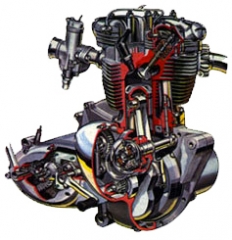 The team at Don Hutchinson Cycle has been building, painting, and restoring Triumph motorcycles for over 47 years under the leadership of Don Hutchinson.
From our shop in Wakefield, Massachusetts, we've carried out just about every service imaginable. We're proud to be recognized as a leading expert in vintage Triumph paint, and can handle any part of your restoration, from cad plating to rare OEM parts.
We're experts when it comes to repairing vintage Triumphs. We know how to make these bikes run as well as possible, and even have a few tricks up our sleeves to make them run better than when originally manufactured.
Please call, email, or drop by to see what bikes we currently offer for sale, whether we can give you some tips or guidance, or to find the parts you need to complete your project.