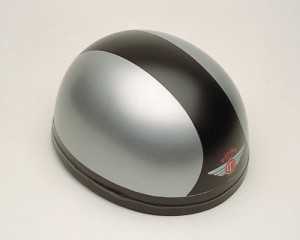 Davida Classic Helmet – Stripe – Silver & Black
$350.00
– This exceptional handmade British helmet is extremely comfortable, quiet, and highly functional, and retains all the original design features of the 1950's low dome racing helmet.
– Manufactured using traditional materials and techniques and handbuilt with exacting regard to quality. Neat and compact in design, it is an authentic example of the first helmets especially manufactured for motorcycle racing. The Classic helmet has a fibreglass shell, leather interior, side flaps and neck curtain.
– Please note that "In Stock" means we are accepting orders for these handmade helmets, and we ask that you allow 4-6 weeks for manufacture and delivery. We do not have these in stock on our shelves.
Davida Classic Sizes

Small - 54-58cm

,

Medium - 58-61cm

,

Large - 61-64cm